Introducing Medical Device RMA Automation
It is annoying enough having a specialized piece of equipment damaged | Requiring PM (Preventative Maintenance ) | Replacement ….. But then you have to go through (up to) days of web site RMA requests – email communication – freight management and more….. Just to send your device to the Maintenance Vendor.
Keeping track of your Device | Where is it | When will I get it back | Where is my Loaner item | whole of life costs | was it just repaired ? are all tasks that require time and energy.
Introducing SurgiDat MD-RMA Automation
Transparency and Efficiency between you and your Vendor – Your time is valuable – Your production and patients require fast effective service.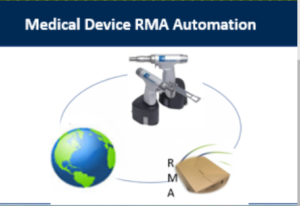 Web based "login and use" solution
Manage your inventory
Item Master Repository
Keep | Report on history
Receive emails from your vendor/s directly into the MD-RMA System to correlate and collect cost, shipping tracking Real-Time RMA numbers and more.
Provides Alerts for shipping notices
Stream lines | Saves Time | Consolidates Whole of life costs
Auto update of Serial ID's into your Item Master for Repair Replace requirements